NLPEA operate a Lifetime Professional Body Membership scheme
There are no annual or monthly membership fees to pay – once you are in, then you are IN.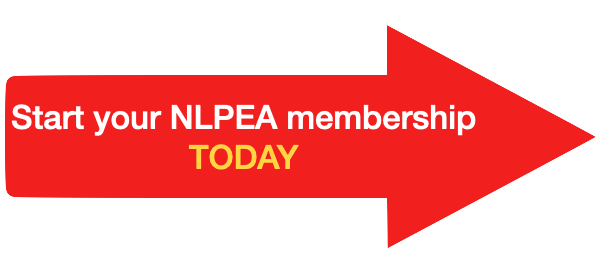 We aim to keep joining the NLPEA a simple process for you (no application forms to complete):
There are two possible routes to membership of the NLPEA:
 1. Use your existing qualifications in Coaching or NLP as a gateway for NLPEA Lifetime Membership.
If you have qualified as a Coach or as an NLP Professional via a non NLPEA Accredited course then you may be entitled to membership as long as your qualification meets our standards. Simply drop us a quick note (naming the training institution that provided your course, your qualification title and the trainer on your course) by email or complete our online contact form. We will then confirm your eligibility. Your membership is then confirmed when you have paid the Lifetime Membership Fee.
2. Gain membership by taking a Coaching or NLP certification course with one of our Accredited Trainer members.
In this case your trainer will complete your Professional Body Registration with us for you. There will be no additional fee to pay in this case and you gain NLPEA Lifetime Membership Status at the level of your new qualification.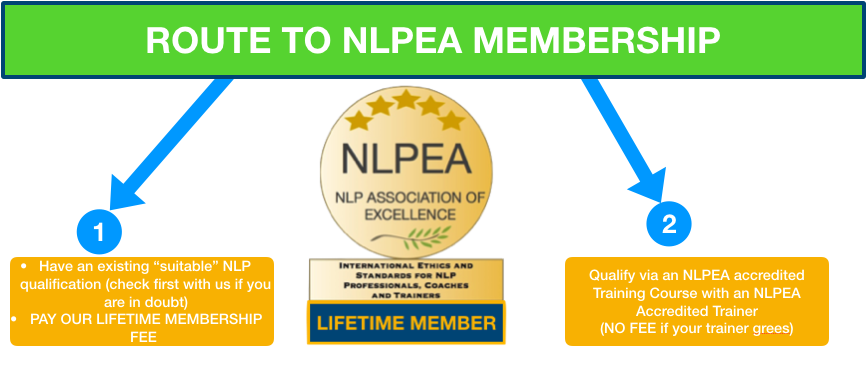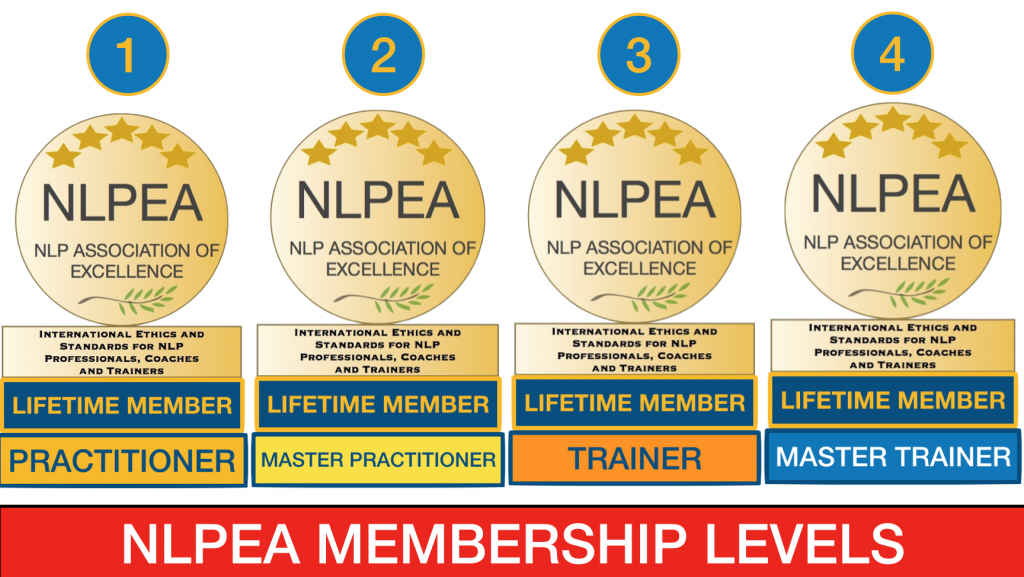 We would love for you to join us>>>
Are you already NLP qualified? 
If you have a verified qualification in NLP at Practitioner, Master Practitioner, Trainer or Master Trainer level then you will be entitled to membership
If you have gained a qualification from an NLPEA registered trainer then they will notify us automatically of your graduation – they may already have covered your joining fee – ask them if you are unsure.
If you have an existing NLP, Coaching, or Leadership qualification and you did not take the training from an NLPEA registered trainer, then you may still be eligible to join the NLPEA and an initial joining fee will apply. See below for more details.
Lifetime Professional Body Membership for NLP Professionals and Coaches
Once you have joined the NLPEA, then you gain lifetime membership and lifetime access to the benefits that membership brings. There is no need to renew your membership.
You will be able to use our trusted branding and promotional material at the membership level that is appropriate to your qualifications and skills.
Bodies and associations have a choice whether to charge for membership and add a range of services such as quarterly newsletters or whether to maintain a free membership system. A few years ago we polled our membership and they told us that they would prefer that our membership were free after initial registration, rather than paid for on an annual basis. This very much appeals to us in terms of matching our ethical stance towards NLP and Coaching global inclusiveness and high standards. As you may know many organisations charge in the region of $250 annually for membership with a quarterly newsletter essentially all that members have to show for their money. Our members told us that they would prefer for us to offer lifetime membership, with members qualifying for membership upon qualification via suitable training courses.
The main services that we offer are to provide a framework of global standards and ethics for NLP, Leadership and Coaching professionals so that the general public can be assured that wherever in the world they seek assistance from an NLPEA member, they will receive a good standard of care and a level of excellence in behaviour and skills. We take enquiries from the public for NLP and coaching services all over the world and distribute them to Practitioner, Master Practitioner, Coach and Trainers members according to location and the service required.
Trainer and Master Trainer NLPEA members may also provide NLPEA accreditation (once approved) for their own students and courses. They can additionally licence NLPEA Transformational Coaches ™)
We believe that this structure allows us to fulfill our purpose of:
increasing accessibility to High quality, affordable and globally useful NLP services worldwide
providing a robust universal structure of ethics and standards to serve both the public and our members
maintaining the integrity of NLP and coaching for the good of the global community.
Joining the NLPEA
You can join the NLPEA via either of two routes:
Take a training course from one of our trainer members – qualify from the course – gain free lifetime membership. If you choose this route then there is no need to apply for membership, your trainer will do this for you.

Use an existing suitable qualification – pay a One-off Lifetime Membership Joining Fee (currently just $663 – gain lifetime membership. Please contact us in the first instance using the form on our contact page.
Professional Body Membership for life – Sign up today
Once we agree that you are eligible for membership (and at what level) then:
Please click on the Green Button to register and purchase your membership in a couple of easy steps.