Qualification standards for NLPEA accredited Training
Here are the NLPEA Training and Membership Standards for trainers and members.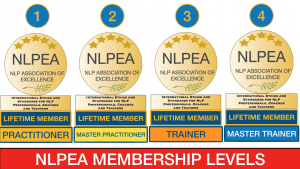 In order to have your courses accredited or to join NLPEA using existing qualifications they will need to meet the following criteria:
1) Requirements for certification as an NLPEA NLP Practitioner or NLPEA Transformation Coach are: 
General assessment criteria for NLP Practitioner:
NLP Practitioner/ Transformation Coach:
Certification by an NLPEA recognised Trainer of NLP
Minimum of 100-130 hours study of an accredited NLP Practitioner training course
Tutoring, supervision and assessment on your course
The NLP Practitioner Certification process is based on your integration of self evolving and ecological attitudes, proficiency in NLP skills and abilities, and content knowledge of NLP principles and techniques.
An NLP Practitioner is expected to know the following NLP content at appropriate levels of frames, concepts, principles, processed, techniques, and distinctions:
The Presuppositions of NLP
The Legs of NLP
The Present to Desired State Model
Well-Formedness Conditions for Outcomes
State Management
Rapport
Pacing and Leading
Calibration
Sensory acuity
7+/-2
Uptime/Downtime
Representational system – Primary/Lead/Reference
Predicates
Eye Patterns
Synesthesia
Overlapping
4-tuple, 6-tuple
Inventory
Association and Dissociation
V-K Dissociation, Double Dissociation
Milton Model/Meta-Model
Deep and Shallow Metaphors
Hypnosis – how to create trance, uses
Basic NLP Inductions
Pacing and Leading
Overlapping
Anchoring
Basic Anchoring -Stacking anchors -Collapsing anchors -Chaining anchors -Future Pacing -Change Personal History -Circle of Excellence
Self Editing
Strategies: TOTEs Well Formedness Conditions for Strategies Eliciting, Calibrating, and Utilising Strategies Pattern Interrupts
Submodalities – Analogue and Digital Submodalities – Critical and Driver Submodalities
Phobia Cure
Swish Pattern
Standard Belief Change (mapping across Submodalities)
NLP Frames: Outcome frame -Backtrack frame -Relevancy frame -As If frame -Open frame -Discovery frame -Contrast frame -Ecology frame – Agreement frame
Reframing
Content/Context reframes 6 Step reframe Negotiating Between Parts Creating a New Parts
Simultaneous and Sequential Incongruity
Chunking and Sequencing
Basic Timeline work
In time – Through time
Hypnosis
——————————————————————————————————————–
2) 
Requirements for certification as an NLPEA NLP Master Practitioner:
Certification by an NLPEA recognised Trainer of NLP
Minimum of 100- 130 hours training at NLP Master Practitioner level and on an accredited NLP Master Practitioner training course
Successful completion of NLP Practitioner Certification or NLP Associate Practitioner Certificate .
Course assessed and deemed competent by a recognised NLP Trainer/Master Trainer
An NLPEA NLP Master Practitioner is expected to know the following content at appropriate levels of frames, concepts, principles, processes, techniques, and distinctions:
META-PROGRAMS – ELICITATION – CALIBRATION – UTILISATION – CHANGE – FLEXIBILITY Toward – Away – Internal – External Frame (with check) – Sameness – Difference (with check) – Possibility – Necessity – Global – Specific – Time Sorting: In Time – Through Time – Time Orientation: Past, Present, Future, Atemporal – Primary Interest: People, Place, Activity, Things, Information – Self – Others – Task – Maintenance (or Task- Relationship) – Options – Procedures – Convincer Sort: Representational Systems, Time Frames – (automatic, period of
VALUES (CRITERIA) – ELICITATION – CALIBRATION – CLARIFICATION – UTILISATION – CHANGE WORK Toward and Away Values – Ends and Means Values – Values Hierarchy
Optional: Gravesian World Views Model, McClelland Motive Model
CRITERIA UTILISATION PATTERNS – Generation – Detection – Utilisation
ADVANCED STRATEGIES – Streamlining and Installations – Circuitry Clearing
ADVANCED SUBMODALITY WORK – Submodality Accessing Cues – Temporal Submodalities – Advanced Timeline Work – Changing emotions through temporal submodalities – Compelling Futures
Changing the typology of the timeline
ADVANCED MILTON MODEL – Leverage Inductions – overwhelm – confusion – overloading – pattern interrupts – fractionation – arm catalepsy
BELIEFS – ABILITY TO DETECT, INSTALL, CHANGE AND UTILISE – Core Beliefs – Belief Systems – Enabling and Dis-enabling Beliefs – Organic Belief Change Pattern (with Belief Molecule)
MODELLING – ELICITATION-EXPLICATION-REPLICATION-TRANSFER- UTILISATION – Model selection – Task decomposition – Model extraction – Data reduction and synthesis – Model formalisation – Model transfer – Inside and Outside Modelling – Modelling I and Modelling II – Contrastive Analysis
ADVANCED PATTERNS AND TECHNIQUES – Sliding Anchors – Contextual Marking – Logical Levelling and Logical Typing
Optional: – The Disney Pattern – Self Edit Patterns, alphabet edit, walking edit, breathing edit, self generated edits – Decision Destroyer – Meta Mirror
Advanced Timeline techniques
Hypnosis – The different types of trance/methods of hypnosis, practical uses
3) Requirements for certification as an NLPEA recognised Trainer of NLP (NLP Trainer):
There are two routes to becoming an NLPEA trainer member:
Must hold a certificate signed by an NLPEA Approved Master Trainer of NLP. Ask us for your access to an NLP Master Trainer.
Must be an existing NLP Trainer, having gained certification from an NLPEA "recognised" NLP Trainer. "Recognised" may mean that the trainer is not accredited by us but is deemed "competent and suitable" by us. Please check with us if in doubt.
More details on how to become an NLPEA trainer member
——————————————————————————————-